Travel to Mendoza & Patagonia!

About Our Mendoza & Patagonia Tour

Take in the bold and stunning scenery of Argentina—travel a route that follows the spine of the Andes from the wine country in the North to the peaks and glacial lakes of Patagonia in the South. Savor world-class local wines, follow picturesque trails, and enjoy the spectacular Southern region of Patagonia, Glacier National Park and the Fitz Roy Mountain, one of the last wilderness regions in the world. Walk on the ice of the Perito Moreno glacier, considered the eighth wonder of the world for its spectacular vistas.
---
What's Included In the Mendoza & Patagonia Tour
9 Nights at Comfortable Local Lodges
24/7 Argentine Guide
24/7 Gondwana Trip Leader
Transportation in Small Vans w/ Expert Local Drivers
All Meals Apart from 2 Free Time Dinners
Dinners include 1 bottle of wine for every 2 guests
Wine Included when Visiting Vineyards
All National Park Fees
All Tours/Activities
Mendoza & Patagonia Accommodatations

The accommodations on this tour will be locally owned, uniquely stylish, and incredibly comfortable. Soft and roomy beds, hot showers, impeccable service and modern conveniences allow for maximum relaxation while traveling these beautiful and remote locations.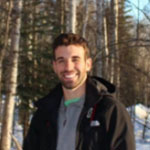 "This was our second time attending a trip with Gondwana Ecotours and all I can say is WOW. Each trip has exceeded our expectations and turned out to be an unforgettable experience"
—Stephen Valido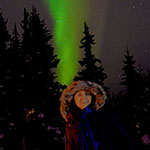 " I had more laughs and fun in 5 short days than I can remember on any other trip. Everything we did was new and even at my age I was not pressured to do more than I felt I could."

—Barbara McDonald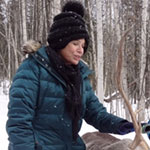 " I can't imagine not going with this group. I had no idea what to expect and this went much beyond whatever I could have thought. Thank you Jared for your wonderful tours!"
—Judy Goldman
See More Reivews
On our Patagonia & Mendoza tour we only use local guides, accommodations, and restaurants that respect the local environment and culture. Our group is limited in size to minimize our impact and footprint. We also offset the emissions from your round-trip flight to Argentina through Carbon Fund and you will receive a certificate in your name via email.
Want to learn more about Carbon Offsetting?
Read our short post about carbon offsetting.
---
Get Ready To Travel To The Argentina!
Start Date
End Date
Per Person
Single Supplement
Trip Capacity
Availability
Nov 2
2018

Until

Nov 11
2018
$5,455

Per Person

$610

Single Supplement

Trip Capacity:

14
Contact To Book
Nov 1
2019

Until

Nov 10
2019
$5,455

Per Person

$610

Single Supplement

Trip Capacity:

14
Contact To Book
*4 Guest Departure Minimum
Ask us about custom dates for individuals, couples, families, and groups.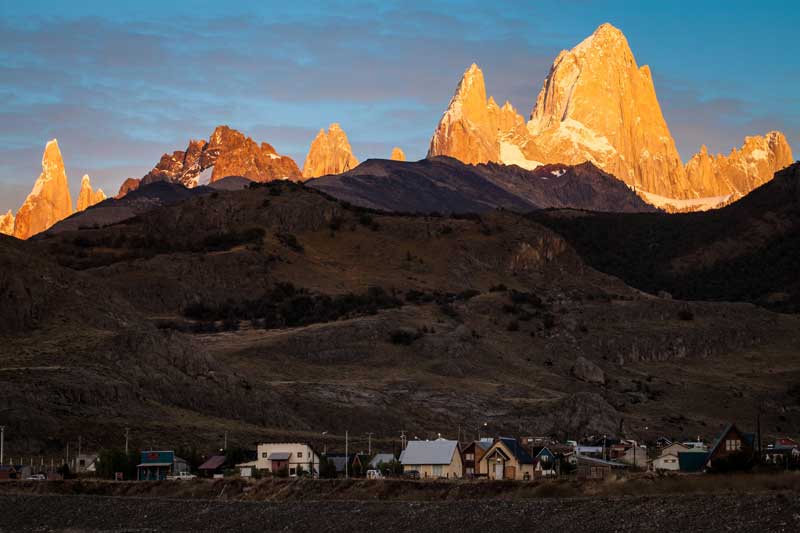 Gallery From The Mendoza & Patagonia Tour
click for larger images
Travel to Mendoza & Patagonia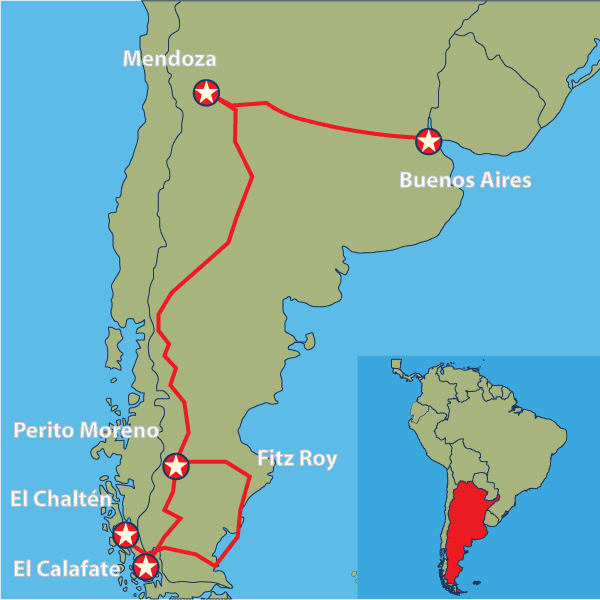 ---
Argentina Travel FAQ
This tour is a Guided Walking Adventure, with a difficulty level of easy to moderate, and an average walking distance of 2 to 5 miles per day. A variety of walks are included, ranging from easy town walking to longer and more strenuous hikes of up to six hours. All of the hikes are on well maintained trails. If needed it is possible to only participate in shorter walks and hikes. Please keep in mind when preparing for this tour that it takes place in Patagonia, and therefore much of the terrain will be hilly. Walking on a glacier, which is optional, can be challenging as it has some uneven and slippery surfaces.

All domestic flights in Argentina will be purchased by Gondwana and invoiced to the guests separately. This costs roughly $800 and includes flights from Buenos Aires to Mendoza, Mendoza to Calafate, and Calafate to Buenos aires. Roundtrip flights to Buenos Aires are also not included. We can recommend a travel agent if you would like help purchasing international flights.
Dani Catania
Dani Catania is an expert with more than 10 years of experience guiding people through his native Patagonia. His passion for nature, expertise in the mountains, and love of his home has led him to explore some of the most challenging regions in the world. The best part of having Dani as your guide, besides his knowledge and charming persona, is that he is part of the living history of this area. His stories of the history and culture will give you a deep understanding of this unique region of South America.
… More About Dani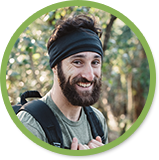 Jared Sternberg
Jared Sternberg has been leading trips for Gondwana® since founding the company in 2013. He is incredibly passionate about creating unforgettable travel experiences. He will provide you with a unique and exciting adventure and ensure your satisfaction and comfort throughout the tour. As an avid photographer, he can provide guidance on capturing the perfect shots. He also loves sharing and exchanging photos with guests after the trip..
… More About Jared
Add To Your Adventure
Journey from the charming capital city of Quito, through the Andes Mountains and into the rainforest through the famous "Gateway to the Amazon".
From the comfort of an ecolodge built and maintained by a small native population, we will guide you through the waterways, forests, and into their traditional dream culture in a way most travelers can't experience. Watch for pink river dolphins, wild toucans, howler monkeys and other exotic creatures in this incredibly biodiverse tour in a secluded corner of the Amazon rainforest.
Learn More